Ah do you smell that? That`s the smell of spring time and all the beauty that it holds.
Robert andI got our Tickets for the lake in question and after acquainting ourselves with its occupants the previous season,we had a plan of action and decided to stick to it.
April was one of the driest on record and seemed to set the Tench on the feed nicely and also had the carp on the move and they could be spotted in the more secluded areas of the lake at times either basking or just cruising about,despite being nice and dry the nights as per usual in Arpil were cool ou first session I decided not to take any particles whatsoever as the Tufted ducks were being their usual fun selfs "dive dive" We settled on loosely scattered free offerings and fished one rod on 15mm halibut pellet and the other on a new boilie mix for this season in 18mm sizes.We set up in one of the arms of the lake and loosely baited with 18mm boilies.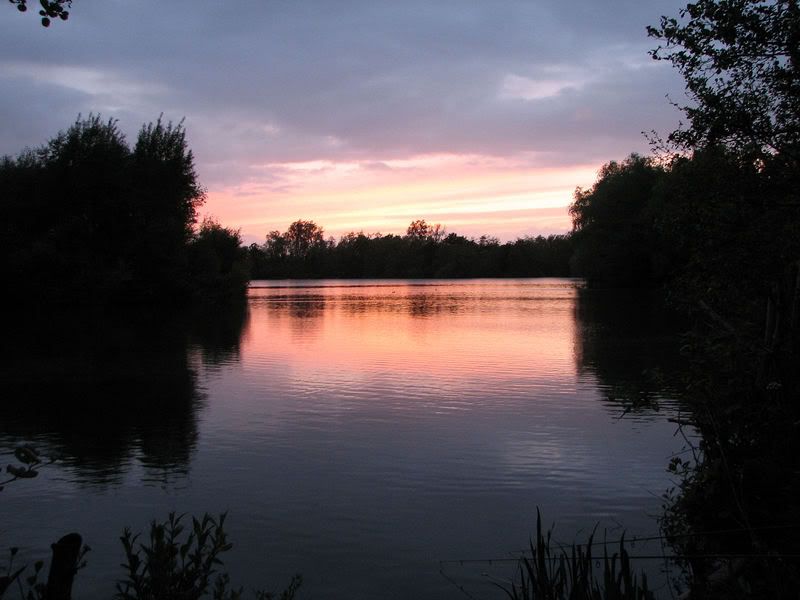 all rods were out on running rig slack line setups with 1.5oz flat pear leads and 10 and 12lbdrennan sink braid hooklinks to size 8 Kamasan animals,the Afternoon came and went without much incident and we sat back and just absorbed the atmosphere,the evening came and as it did the usual Tench activity started a few shy rolls from near the far margins with some nice sized fish around the 8lb+ bracket but alas no bites were to be had during the night,once morning approached my right hand rod let out a single bleep and then went quiet till 9am when it thendecided to single tone,I lent in and this fish felt good,not a carp but one of the big Tench which inhabit the lake,could it be one of the double figure ones? it decided it wouldnt play ball and kept running,for every metre i put of line back on my reel it tore of more,now i decided to bully harder,even then it carried on,I was beginning to think it was perhaps one of the carp as it was just having none of what I was trying,next thing I knew it had me snagged in a sunken willow tree further down which stretches about 12 metres out over a very deep margin as much as I don`t mind swimming out this did not look a wise option,so I moved up the bank as far as I could to the snag,only to see what was a double figure Tench of what i estimated at at least 10LB on one of the branches unfortunately it was not to be and the hook hold in the end parted with me and what would have been my first double figure Tench,I was not happy to say the least, knowing I had lost what would have been a very nice and hard to better pb Tench.
later that day however at 3pm my left pellet rod took off and I landed a new Pb tench of 7lb 10z this went some way to cheering me up.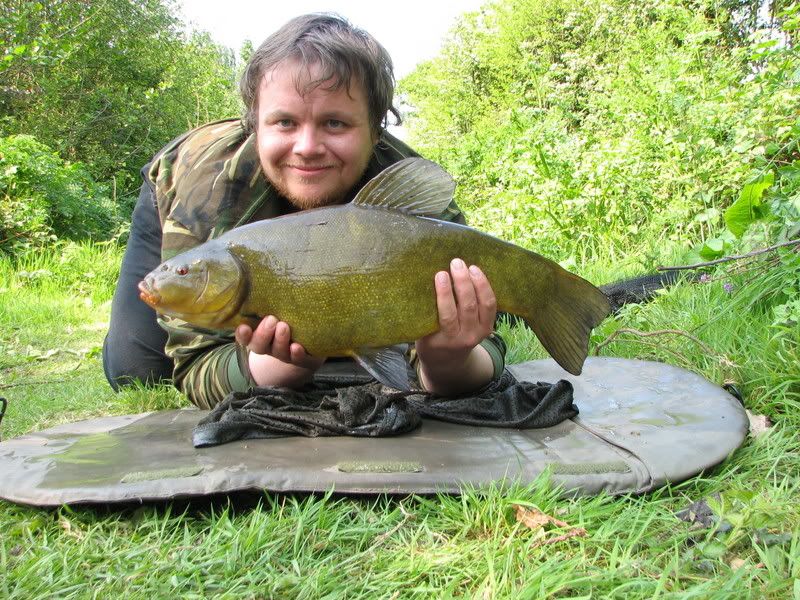 Next it was Robert`s turn his boilie rod which was cast to a nearby gravel gully slowly took off he was into a good solid fighting fish,which put in a good fight and turned out to be a new pb Tench for Robert at 8LB 5oz
we took a total of 19 fish in this session,mainly Bream and Tench,those two being the pick of the bunch,alas the carp were not playing ball.
MAY
Well if April was the UK`s driest on record May certainly was a good Noah`s Ark,high winds and lots of rain didn`t deter us from getting out on the lake,always nice to be outthere whilst many other anglers who prefer the sunny days are not willing to venture forth. We decided on the same area of the lake again as the wind was blowing heavily into it and we felt the fish would be on the end of it.
The same tactics and bait were employed once again but this time we decided on one bucket of hemp and one of partiblend which were only lightly spodded on the first night,along with a loose scattering of the boilies over each boilie rod only 20/30 per rod.The weather was absolutely hellish,during the day,gusting winds and heavy rain with just the odd dry spell between each battering.
As expected though,the winds were having a desired effect and I took 6 Tench including three just under 8LB new and a new PB just off 8Lbs at 7lb13oz, all on the boilie rod,the session was starting great now all we needed is one of the lakes carp to come calling and we had high hopes for this as the Tench were really on the munch.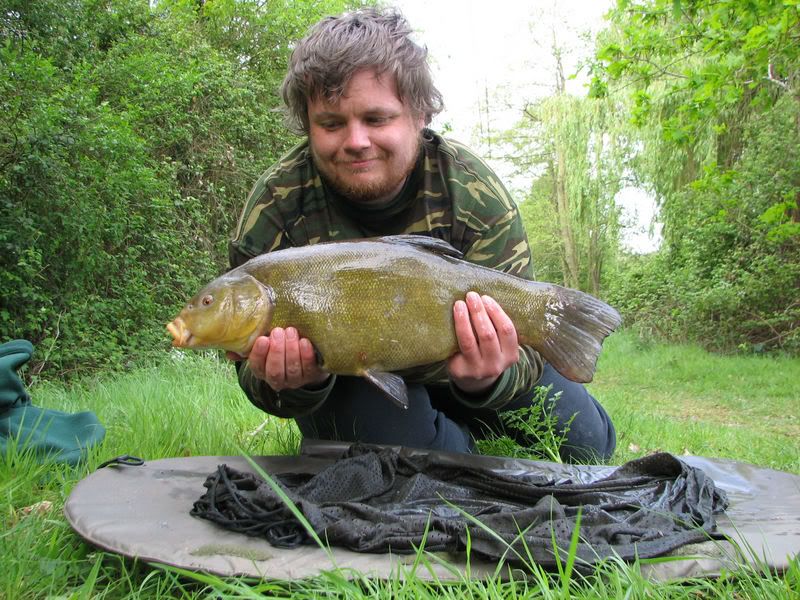 No more bites were had later that evening except for a single solitary bleep on Robert`s right rod,early morning beckoned and at 6am as the rain had eased and we dozed roberts samerod went into hyperactivity his mx couldn`t seem to keep up with the run of this fish,he lifted in immediately and said "it`s one of the carp" she wouldn`t budge and decided to slowly plod off out of the arm of the lake,not good at all as snags and a gravel bar further out were looming and Robert decided to just tighten up and hook and hold and let the rod do as much work as it could without giving any more extra inches to the fish,this payed off and she turned again this time running back into the area we was fishing and cruised in across my rods which were fully pinned down,so there was no worries of her wiping out my rods and us losing her,she then made another dash for a sunken tree in near bank margins,thankfully this was her last ditch effort and 2 minutes later I slid the net under her,it was one of the lakes bigger mirrors but not one of the orignals which we sought,but we was not going to moan and were smiles all round as i weighed I mentioned she was at least 30LB,the scales tipped to 32LB a job well done Robert and I were both very happy chappys,admittedly I would have prefferred said fish on one of my rods ( haha) but either way we was both happy that our hard work had paid off.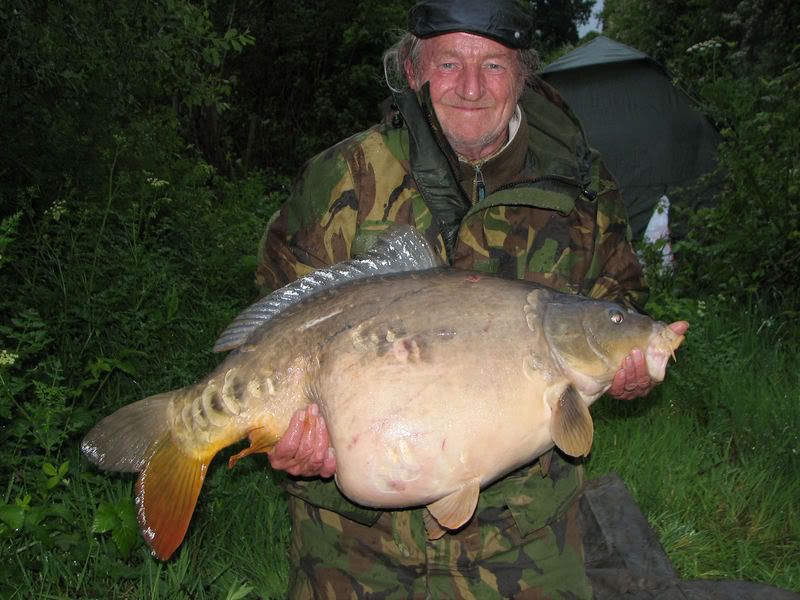 This ended what was a good session for us,unfortunately I couldn`t get a take from one of the carp on this session and since the end of May and start of June both of us are struggling for runs from Tench or Carp possibly the combination of heavy rain and spawning.
Either way you have to be in it to win it and this month so far (start of June) has been very slow with the other lads on the lake blanking solid on all fronts (Carp Bream Tench) and it is unusual to not see the odd Bream feeding as I am sure most of you will agree.