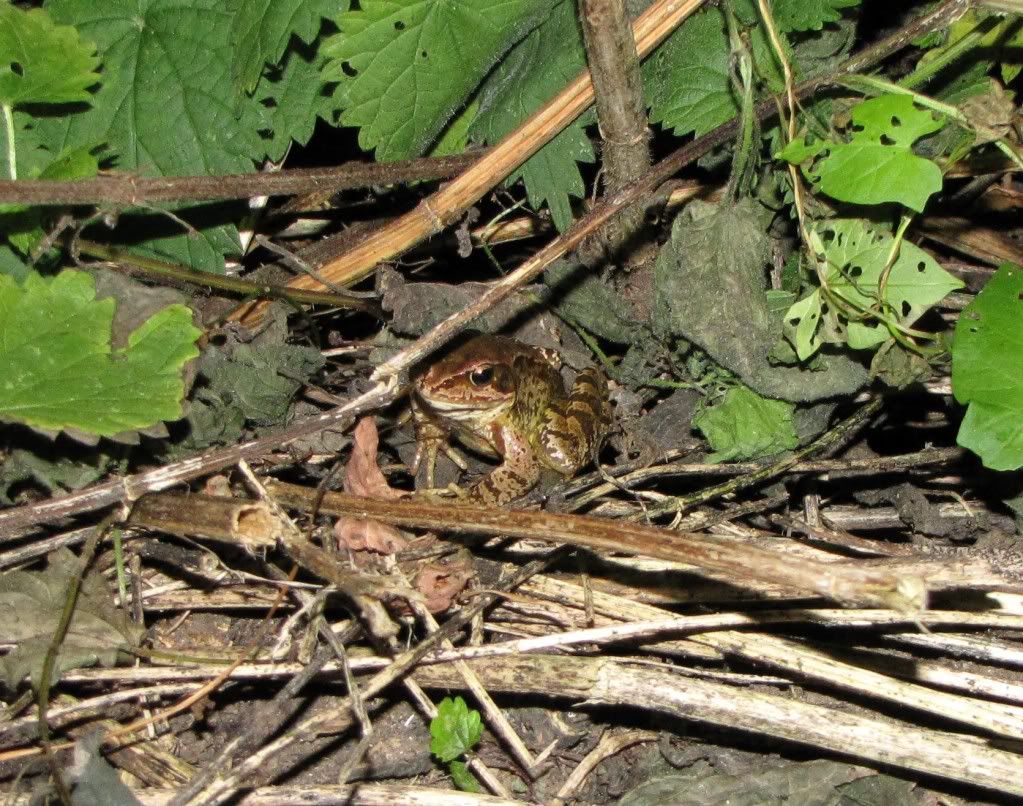 Hello again and a hearty welcome back to fishing for memories.
I have not had quite so much time recently to get some fishing in,but managed to get out last week in midweek for a short and unusually for me non overnight session.
The day was far from ideal and coincided with high pressure and light cold snap we were having in the South of England,nighttime temperatures the wrong side of the dew point and as low as 4.7c,which from my experience is low for the end of September compared to what I have experienced in these global warming fueled recent years,This along with a very stupidly low river for Autumn did make me concerned.
But there's no bad time to go fishing and I decided to head off down to my stretch of river in anticipation of some Barbel,Chub or Carp.
The trees are now shedding their summer clothing and rusty leafs were spread on the ground, the Balsam was looking quite forlorn and turning a limey green,Autumn is a beautiful time to be out fishing,with the trees varying in colour and hawthorn bearing its luminescent yellow autumn berries.
I got to my swim late evening and planned to fish until 1am,that was if the conditions stayed blue and cloud did not make an appearance,I cannot say that I felt as optimistic as I usually do,it was one of those feelings you get use to having as an angler,where you feel the conditions are not prime and the fish are not going to play ball.
I opted to place both rods out on 15mm boilie,one halibut and other Shellfish,in my rush to get out I had misplaced my pack of ready filled pva bags,this was not going to help proceedings and I could have kicked myself for being so woolly headed.
Luckily I did have some free offerings to spare at the bottom of my rucksack and these were hastily placed round both rods,which were fished to near margin and far margin gravel gully's.
The days draw in swiftly now and darkness at around 7pm was soon upon me,I sat listening as the owls started prowling about and a couple of bats clipped my rod tips from time to time.It began to drop in temperature pretty fast,but this did not stop the crayfish activity and they gave my boilies a light chewing,not quit as malicious as they can be I can tell you.
Fish activity started at 7.40 with the halibut boilie picking up a couple of Bream of usual size for this area I was fishing 6 of 7lb mark,this then slowly faded and recommenced later in the evening on the shellfish boilie with another two Bream of similar size.
I was beginning to wonder if this would be the first time this season that I would not bank a Beautiful Barbel and sure enough this did turn out to be what happened.The temperature was by now 5c and it was heading the wrong side of 11pm,earlier in the evening I had had what I felt were the usual tell tale knocks from Barbel but these did not materialize into anything more.
By now I was feeling my umbrella and it was getting soaked in dew,my heart sank,heavy dew and lack of bites are for me synonymous,I stole a look at both rods which had beads of dew hanging from them like diamonds,looking at the sky I could not see a single cloud for miles,not even a hint of some faint wisps.
By now it was getting on for 12am and the heavy dew and lack of cloud sealed my decision to finish up around 1am.
My left Halibut boilie rod let out a fast beep and the swinger smacked against the rod and went slack and lifeless,I was thinking "hmm Chub",which would be nice,as the area I was fishing has some clonkers in it.
The rod fell silent for 20 minutes before it took off and ran downstream,I was into a sprinting fight and under the headlight I could see a solid shape and broad back of a Chub,it was still showing signs of some summer leanness but looked a good fish,once in the net I felt its weight and guesstimated it around the 5lb mark,the scales merrily tipped round to 5lb 8oz. No Barbel but I was certainly not complaining in the least with a lovely Chub which along with the Bream had cheered me up nicely.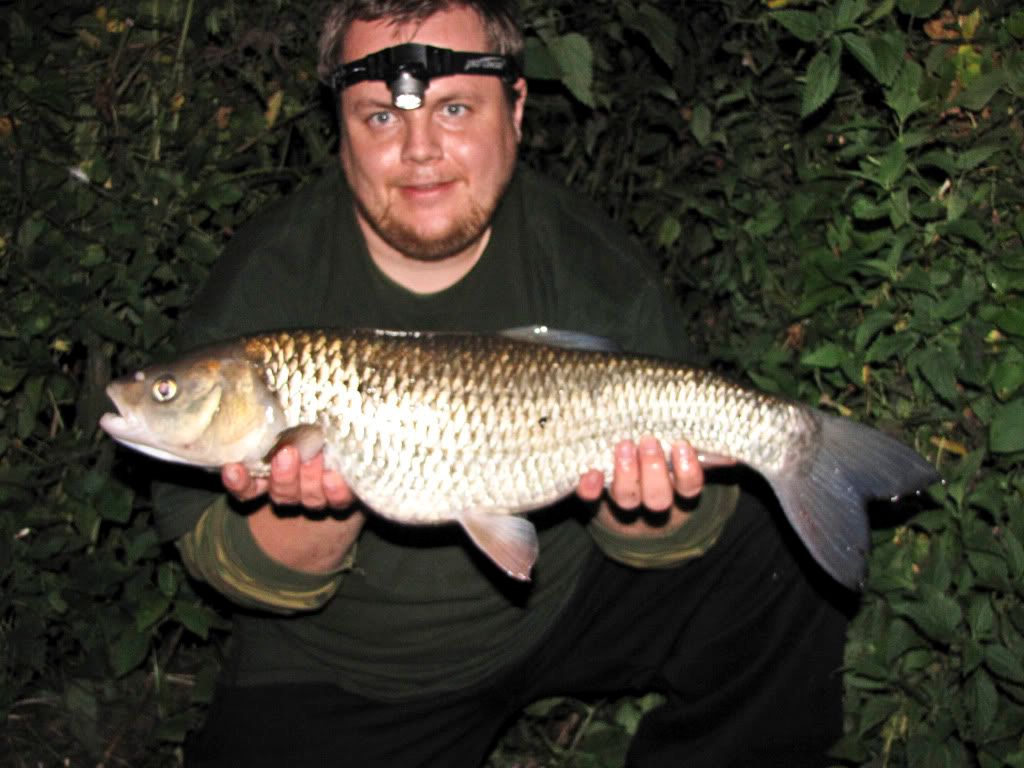 This was the end of my short session and at just gone 1am with the dew getting ever heavier and the river still and silent,I headed off back home.
Until next time from myself on fishing for memories,may your Autumn fishing be grand and your weather system cyclonic.