Welcome Back to Fishing For Memories,the river season has now alas ended and the three month hiatus begins,but plenty of time to do groundwork,along with some nice stillwater fishing.
As you will know Robert has not been very well but we managed to get out for the last day of the season and decided to hit the Thames and fish from early afternoon until last doors.Conditions were superb,light drizzle and south westerlys and feeling quite spring like,very much different to the weather as I write this,with gusting wind and heavy rain the past few days.
The river looked in superb condition,water level up slightly with a little debris but very much spot on,we settled on two different areas that we had only fished lightly this season,both areas with the skeletal snags of bushes naked of their summer attire.We settled on using betaine pellets on one rod each and the others going out on Mainline Assassin-8 ,4oz leads were used on a running rig fished into slack areas with some overhanging snags,both my rods were out on 10lb Drennan Sink Braid and Robert had one of his on the same,but his other rod was on 10lb Fluoro.For groundbait we settled on a light mixture of betaine pellets and liquidised crumb and vitalin and light scattering of Assassin-8 boilies.
The afternoon wore on and was very quiet aside from the odd subtle tap but at 2pm my left rod (betaine pellet) smacked round and sprinted off,I was into a bullish fight which signalled a Chub and once on the bank turned out to be a nice Chunky fish of 6lb exactly,a welcome start
So a nice start and another 6lb Chub for us.Roberts rods had been quiet also and for the rest of the day it was very quiet for both of us,but we had our stall set out for the drop in light and as the afternoon slowly grew into evening the Bream decided to come out to play on both of my rods,Robert escaped their attention,end result was me looking as if I had been dipped in a sperm bank with numerous Bream averaging 7 to 8lb
after the flurry of Bream,all went quiet in my swim,30 minutes later Robert was calling for some help and was into a quality Chub on his fluorocarbon rod on betaine pellet.Once into the net it was a very short fish but extremely dumpy with a large midrift I mentioned to Robert "looks a good fish" and sure enough it was,going 7lb exactly and Roberts second largest Chub,Robert was very happy and chuckling,little did we know that old father had more in store for us.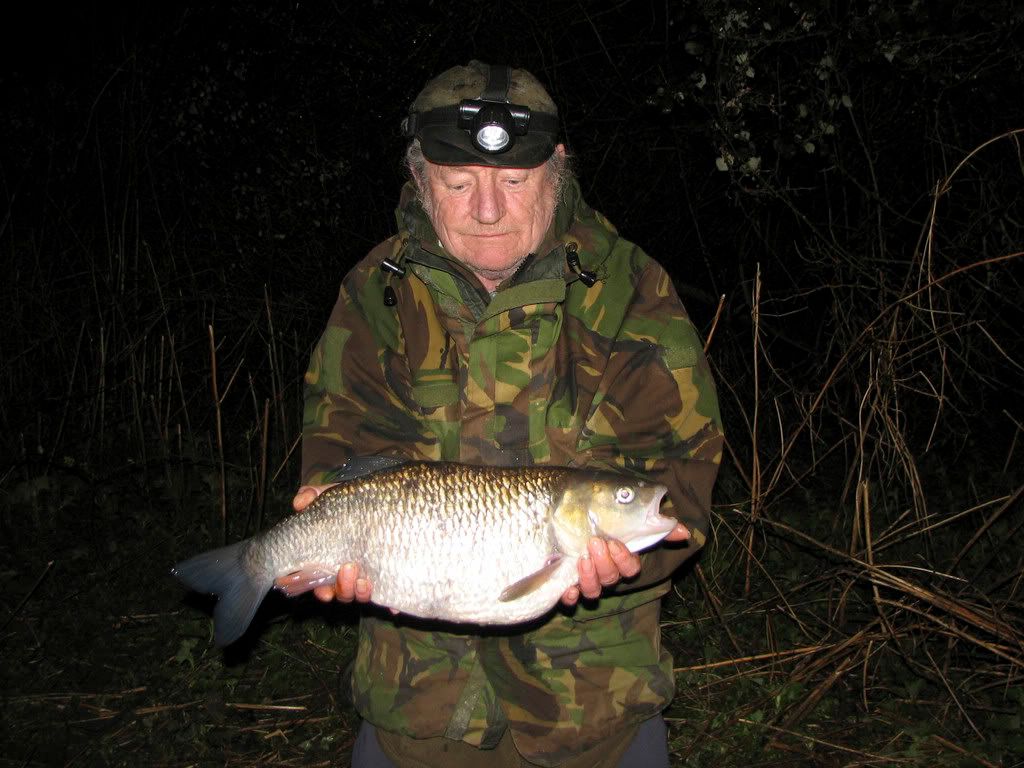 Later in the evening Roberts boilie rod plodded off and he was into another chunky Chub,this one looking absolutely immaculate and nicely proportioned with its immaculate silver scales looking superb and it went 6lb 8oz exactly Robert was on a roll and happy as Larry too.
My swim which had since gone quiet after the Bream shoal had presumably moved on sprung into life again and my boilie rod sprinted off downstream,I lifted in and was into a stop start fight that eventually resulted in a broad backed Chub breaking the surface and once on the bank and weighed resulted in a superb fish of 7lb8oz equaling my personal best Chub,I was buzzing.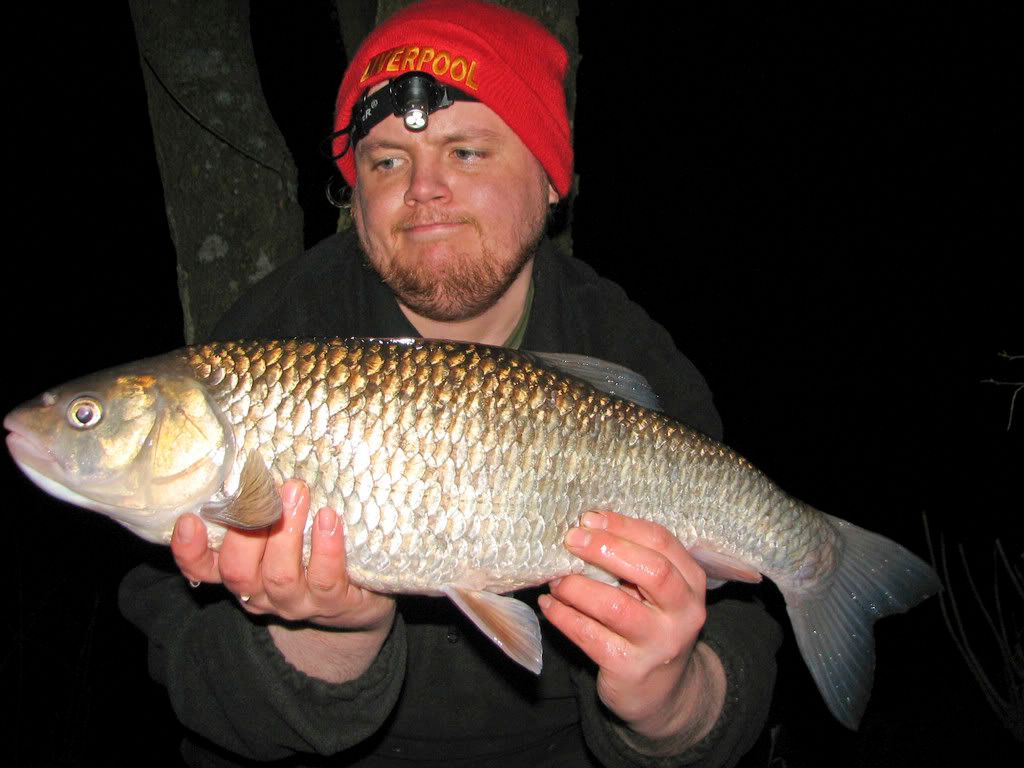 Before I could get my rod back out my other rod bleeped and shot off on the betaine pellet,yet another Chub was on and this too looked a solid fish albeit with a slightly tattered tail and weighed 6lb exactly.
The Chub seemed to be on one heavy feed so I re-baited my area reasonably solidly and it was not long before I heard Robert say he had another Chub in the net this one was smaller but very nice weighing in at 5lb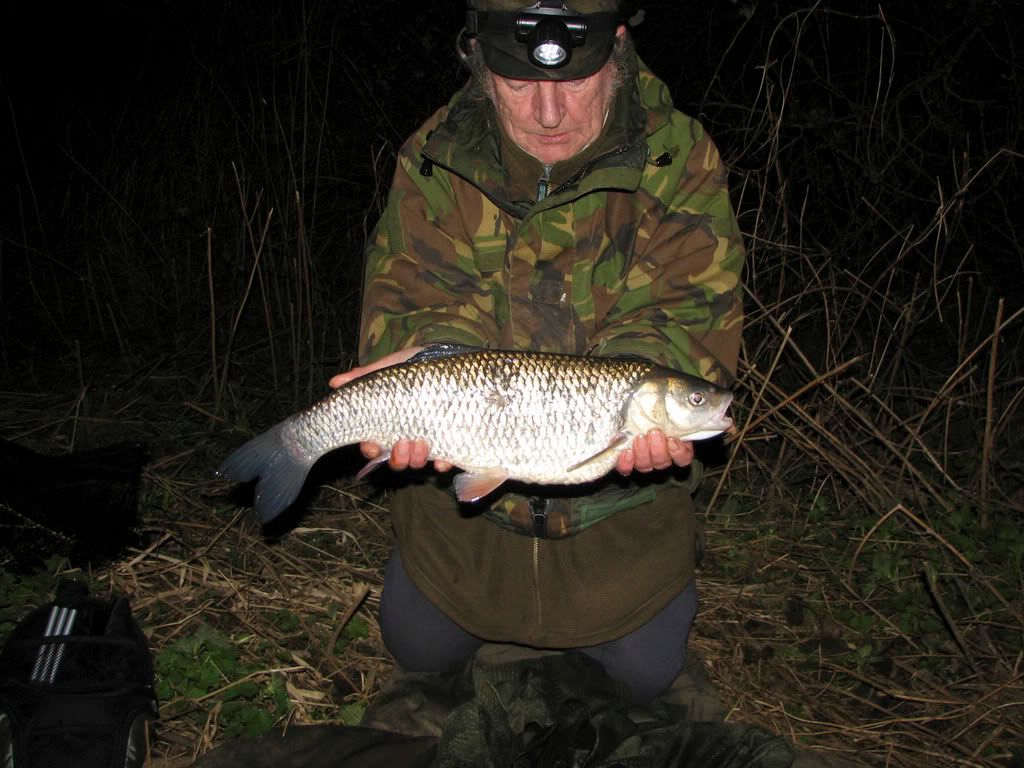 Robert and I were very happy some clonking Chub and a 7 and 7+.I returned to my swim & got both my rods back out time was getting on and approaching 9pm,with three hours left before the end,I sat recalled our season and how enjoyable it had been,my betaine rod suddenly signalled a single bleep followed by another and another then proceeded to go into a staccato run,I lifted in and was met by a fish that hugged the bottom but also sprinted,it felt a solid fish,and continued to hold bottom,I did not wish to bully it too much as if it was a Chub that could cause a hook slip,eventually after a couple of minutes it appeared this fish I could see was long chunky and very broad indeed as I slipped the net under it and lifted I wondered "could it be?"
Out onto the mat and i peered into the net,Robert had come down to my swim and took a look "that is a very large fish Mark,looks a real lump mate" I replied "lets see" and slipped it onto the scales,the needle tipped round to bang on 8lb.A new personal best chub for me and a clonker I had a grin on me like a Cheshire cat and Robert said "Told you it was a lump"
Not long after I had a third Chub of 6lb but my camera battery packed in so no picture of that one,what a lovely end of season session for us and to have two seven pounders capped with an 8 pounder was an absolutely superb way to see the season out.
We are already looking forward with great anticipation to the start of next season.
Until next time,myself and Robert would like to wish you tight lines.