Well it has been a long time since I last updated our Blog,where do I begin?
Robert and myself had a dream to catch Carp from French rivers,from a list of many I might add,tackling the River Lot was to be undertaken by us.The river has an amazing amount of natural food for the fish and so was going to be hard going at times,with crayfish,insects and a plethora of other
invertebrate including zebra mussels and smaller Clams.



Our port of call was the Lot and although I had taken a good amount of fishmeals and assorted shellfish flavoured baits.We both knew there was a chance of Carp up to 25kg if we got lucky,I always set myself realistic targets,all I wished for was some Carp,Mid doubles would do.The peace that greeted us on the Lot was utterly superb tree lined either side with many likely looking snaggy areas and marginal dropoffs and ledges a chap who had been out on his small boat for a few days had spoken to us and told us it was hard going at the time due to the amount of naturals and high pressure conditions and he felt that discretion was needed,so I deemed it that we should keep to lighter gauged hooks with lighter wire,baring in mind some of the people who had blanked had at the time been using Size 2 and 1 heavy gauged hooks,which I felt given the circumstances were not helping with getting pickups from some fickle feeding fish,so we stuck with no larger than size 6 and I was on size 8 Kamasan animals this paired with the ever Faithful Drennan sink braid in 15lb test. mainline used was Fox Soft Steel in 15lb paired up with normal running rigs and 3 1/4oz weights which were later needed to be changed to 5oz due to the flow of certain spots.



()><(((º> Shaun Harrison Quest Baits <º)))><() If I have not said it already I would like to say a big thank you to Shaun Harrison`s Quest Bait Shelf life boilies,they are without doubt the best shelfies I have ever used to date,the flavours we went with were Fruity Trifle,Special Crab and Smokey Fish all in 15mm. So our first night commenced on a faster section of the Lot with rods set high due to flow,luckily there was access to the spots for Robert and myself by vehicle nearby.It
was late afternoon/early evening by the time we was set up,Kites cried from the mountains in front and hunted about scouring the land with their sharp eyes whilst drifting about on the thermals the scene could not be better,the feeling was electric,all our rods were placed on marginal shelves or just to the edge of the main flow, and were baited with fruity trifle and special Crab along with smokey fish,the area had been baited with Maize and Vitalin as well as a good helping of boilies.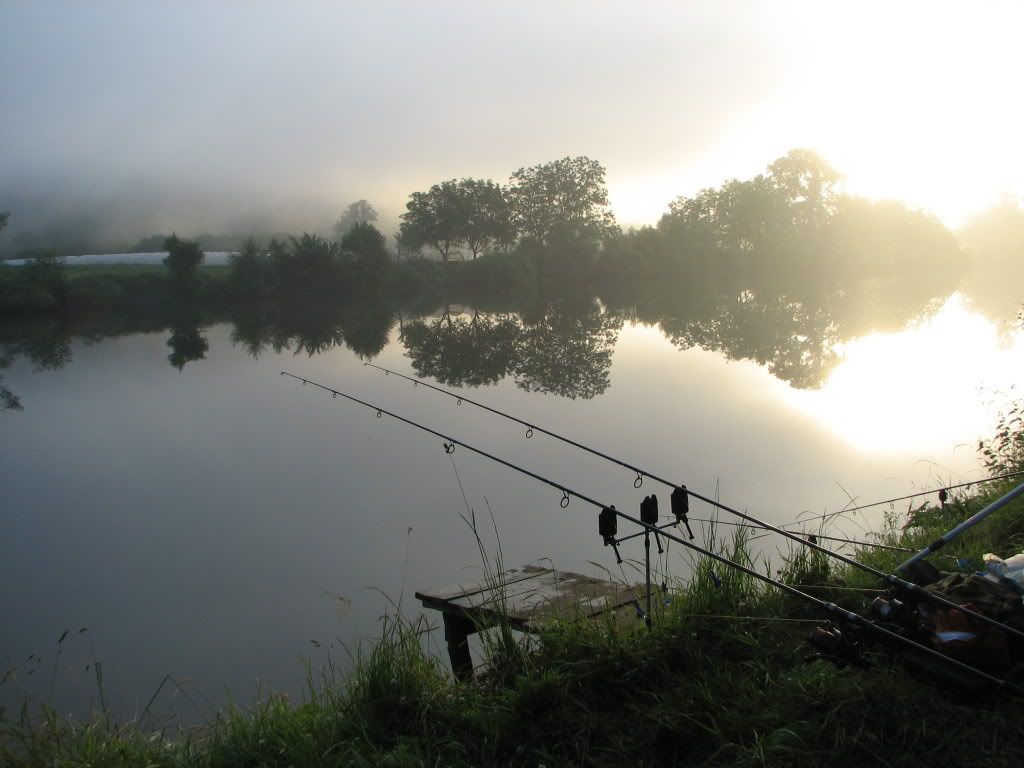 Evening wore on and we had two runs not far apart from the massive head of Barbel that reside in the Lot both fish not massive and 6.8lb each,due to the head of Barbel we was soon to find that there was a lot around this size,in total over 260kg of them and all in cracking hard fighting condition,although not our intended quarry.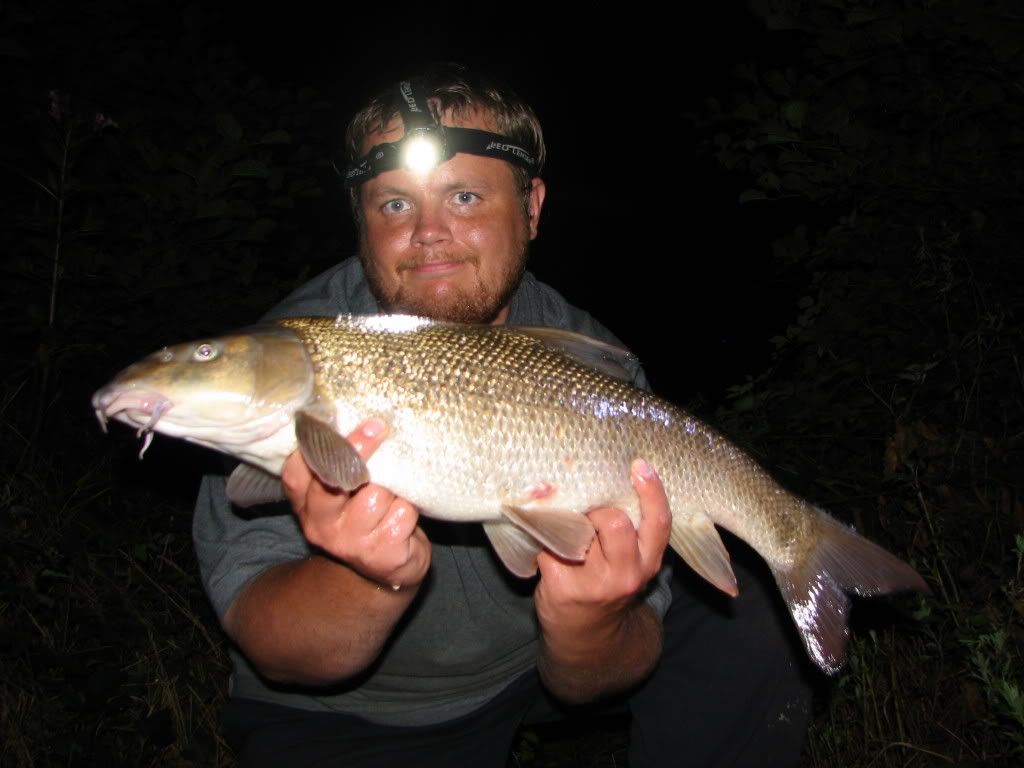 The fish falling to Special Crab and Smokey fish boilies accordingly.
The weather was changeable and the River was running faster than normal in the spot we had chosen,so the next day we opted for a move downstream on a slower area near a bend in the river and fished all rods on the near margin drop off.Come evening time and adopting the same baiting this had an almost instant effect at 1am my left hand rod bolted off with a powerful run and I was into a powerful fish that tried to plough me into a submerged tree near the dropoff,I managed to bully him away from this but alas the hook hold gave and the fish slipped,I was absolutely gutted to have lost what felt a cracking fish,Robert mentioned "don't worry,there will be more" little did I know I would be going for a 12 day blanking spree with Barbel and Chub for comfort,at around 4am Roberts left hand Fruity Trifle rod tore off and he yelled at me that he was into a carp,and sure enough after a very powerful fight our first River Lot Mirror was in the net this fish had Ghostie markings as well,with a lovely sized paddle on it,Robert was made up and very happy as was I we had our eye in and the door was now ajar.
Over the next few days the Carp went silent giving their prescence away rarely and they didnt seem to feed when baited on areas that they sometimes frequented so we waited,the Barbel fed as hard as ever and Chub as well as Bream,but all was quiet by 12 days in we had tried a few different more silty areas but to no avail. I decided it was time we moved onto a new swim one that never really saw much action it had a very good depth around 8 to 12 foot and a nice drop off,but it did lack any weed cover whatsoever.
The first night on this Spot I had seen a nice bit of activity more than I had seen previously and mentioned to Robert that all my rods were going very close in,he chuckled and said "well you would probably be better to have one on the far side". But I felt a very strange level of confidence so went with my gut feeling and it would luckily pay off and also bring us both into more Carp,my Special Crab rod that was back leaded in a nice position and early morning it screamed off and I was rewarded with my first Lot Carp a portly Common of 14lb I was chirpy as a Robin and very happy indeed.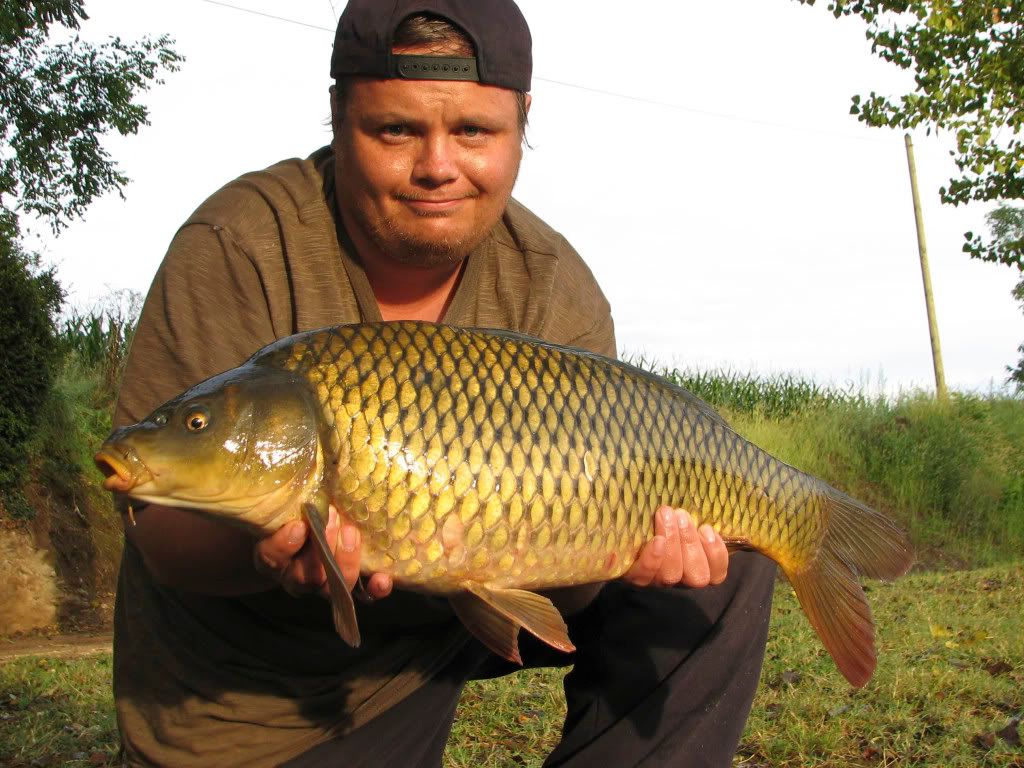 After this I mentioned to Robert how I felt he should move at least one rod in to the
near margin but at the time he was adamant about keeping two rods out long and one on the middle channel,I said I felt more were due near in under our feet almost,but he just chuckled and remarked "if you have another tonight then its not luck just lucky" I replied "ok dad your on,but be warned my ears are burning and hands are warm" to which we both had a good laugh.The night time wore on and Robert added more Bream to his increasing tally as he did have one rod out on Halibut pellet which I had advised against on here,this total tally of Bream would soon exceed 350kg.Into the night we went a full moon was out and I took this as a good omen in typical Moonstrike fashion and at 2am in some steady rain my Special crab Rod that was also no more then 5 foot out sped off and gathering pace,I lifted in to be met by solid resistance and a fish that held bottom,I could feel it trying to make snags and my line pinging across them and it had run me under two sets of bushes,so I gave the fish more bullying and kept my rod low as possible during its time under the bushes 20 minutes later I had a lovely mirror in the net that went 27lb I was happy and repeatedly saying to Robert "location location" he smiled and said "seems your spot on me old mucker",I was made up the fish was an absolute beauty and it had come on my third rod which believe it or not was actually a Barbel rod.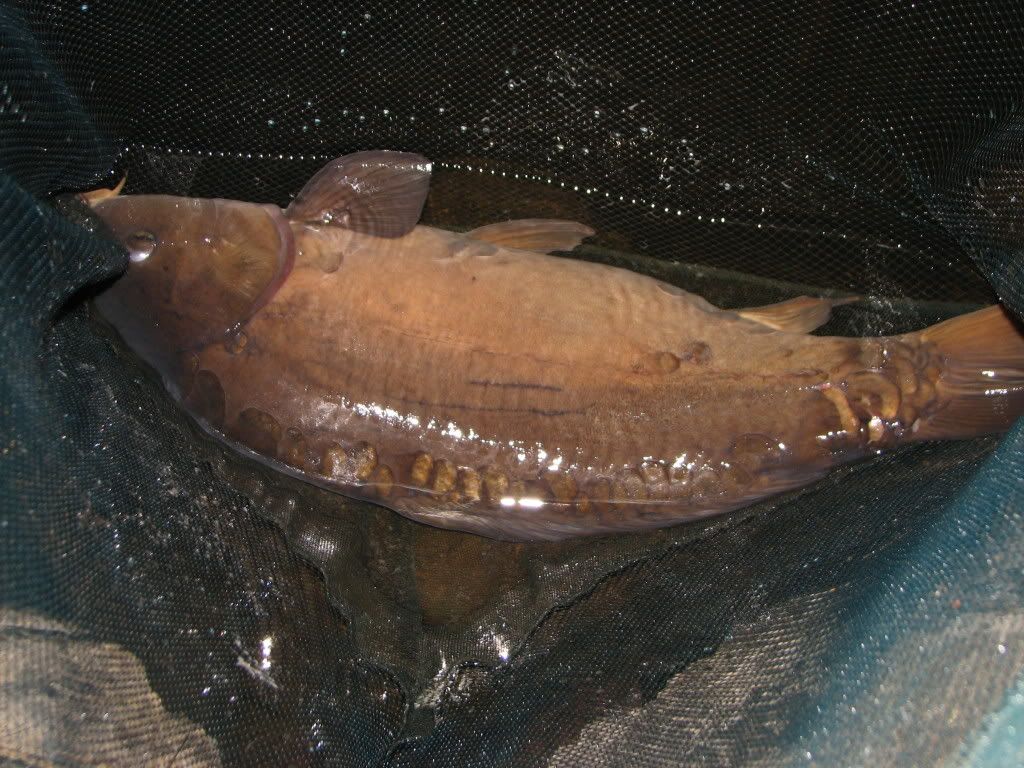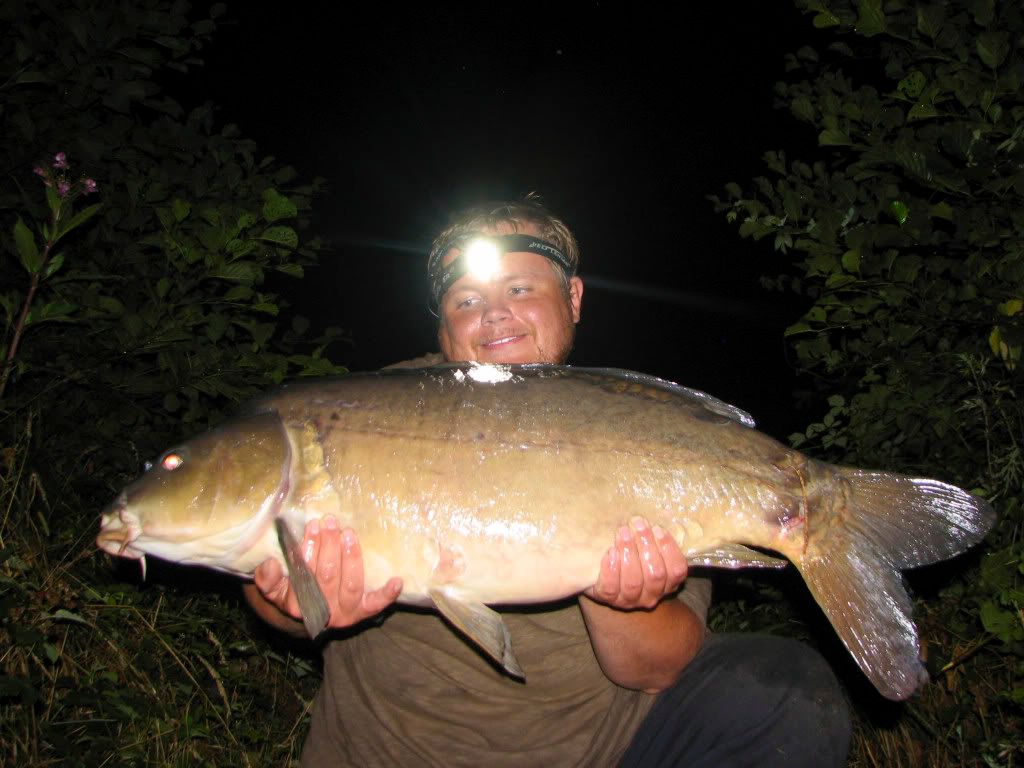 The following night saw Robert adjust his tactics accordingly and place two rods on the near margin shelve and at 2am his Special Crab rod went into overdrive and belted off to snags downstream "heck this is feeling a solid fish" he remarked as it tried to make a sunken tree further downstream.After some solid sensible playing a lovely Common of 26lb was gracing the net,I said to Robert "we have got it spot on" he smiled and nodded in agreement.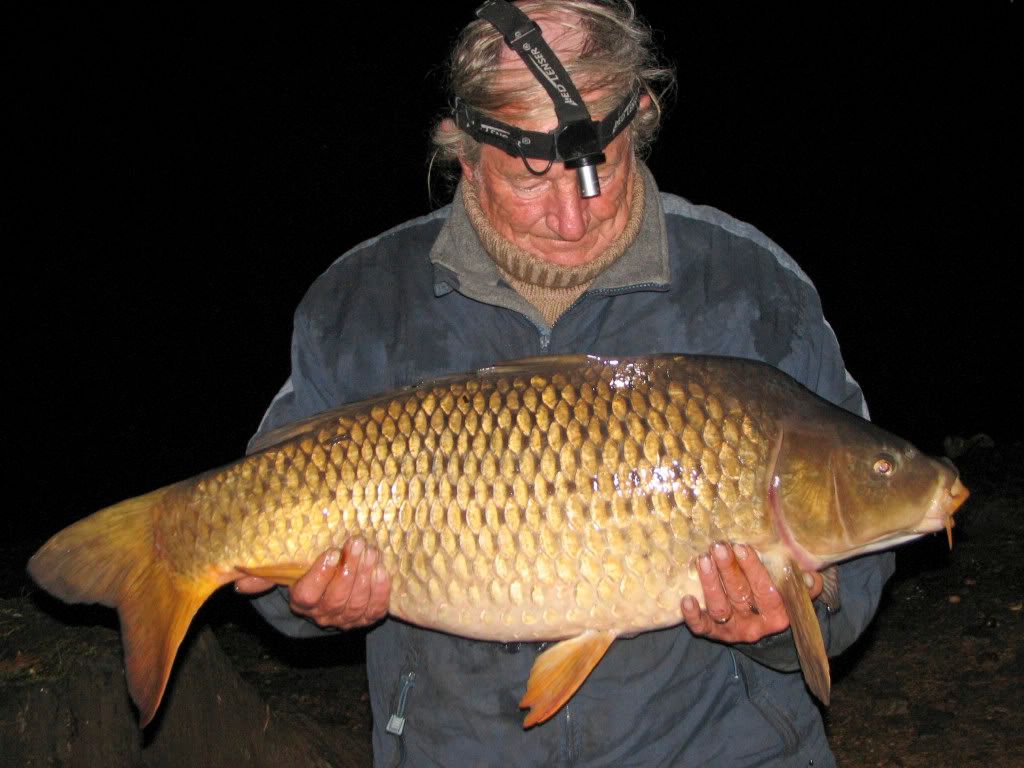 So all was going swimmingly and the following evening there was solid movement from the Carp and some very hard takes from another fish,which seemed just a bit too predatory and sure enough this was the case as later in the night I was into a very slow plodding fish which turned out to be my first taste of pussy in the shape of 12lb8oz Cat,which by the feel of its belly had been gobbling up all freebies..This fish had taken my Smokey Fish Boilie.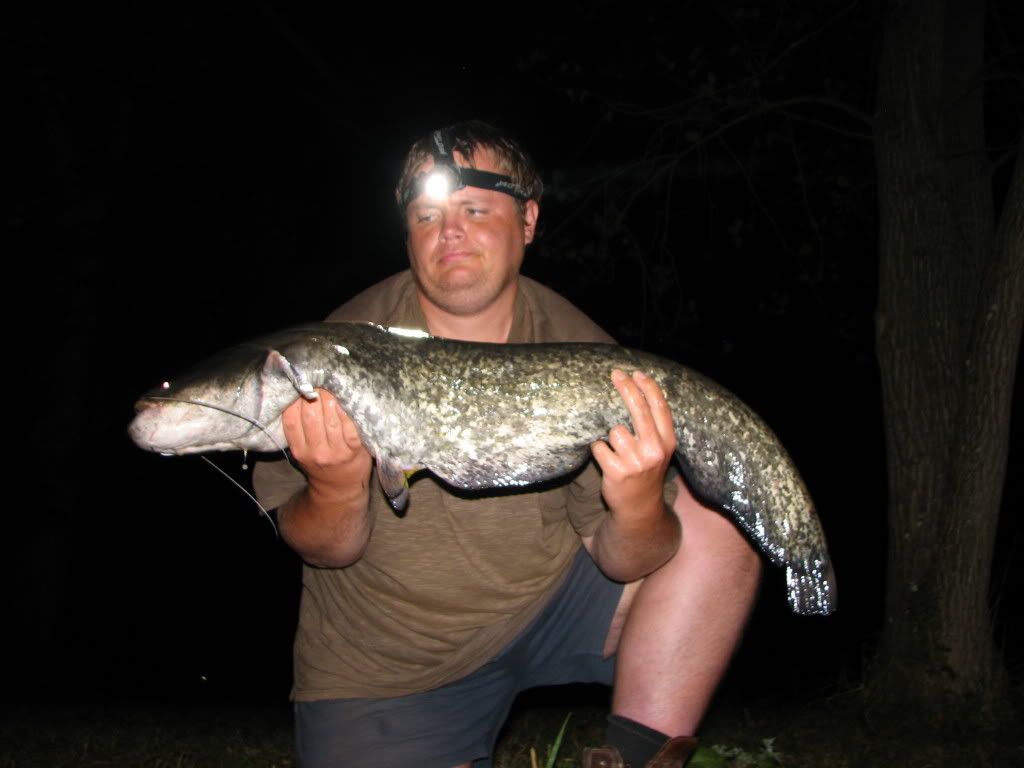 As the night wore on Roberts Fruity Trifle Rod steamed off and to my suprise he to with some trepidation landed a Cat of 11lb.
That was to be the only action of the night with Cats that were bossing about the
feeding till early morning when I added yet another Barbel of 7Lb (one of many) on my Barbel Rod on the Fruity Trifle Boilie.Not a huge fish but it gave a nice account of itself.
Mornings on this river are just something else in my opinon,tranquilty and wild sheer beauty combine to make without doubt a superb concourse of water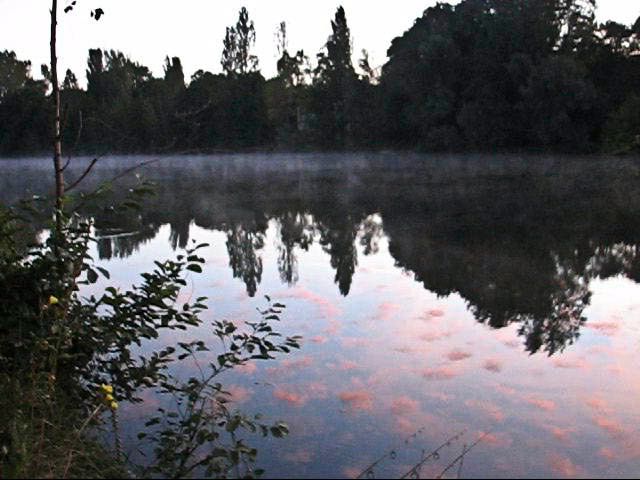 The following evening there was not so much Cat activity or Carp and this carried on till around 4am when it started to rain steadily and then all hell broke loose on my Smokey fish near margin rod as it sped off downstream to Snag Land,I was into a good fish and the rain had now picked up and was sheeting down but it was not cold,I shouted to a heavily dozing Robert "I'm in mate it feels a solid fish" no reply.
"Robert I need a little help here mate" still no answer at this time the fish had decided to do a Linford Christie sprint under a tree and I had walked as far down as I could to get more purchase on it and I repeated my call for Roberts help but had not realised he was beside me with landing net in hand quietly.After a solid bullish fight a lovely Common with Chestnut colours and a lovely shoulder was on the mat weighing in 23lb 8oz I was happy as Larry,I sacked the fish up till early morning so the rain could ease for the pictures and also took a short video of it.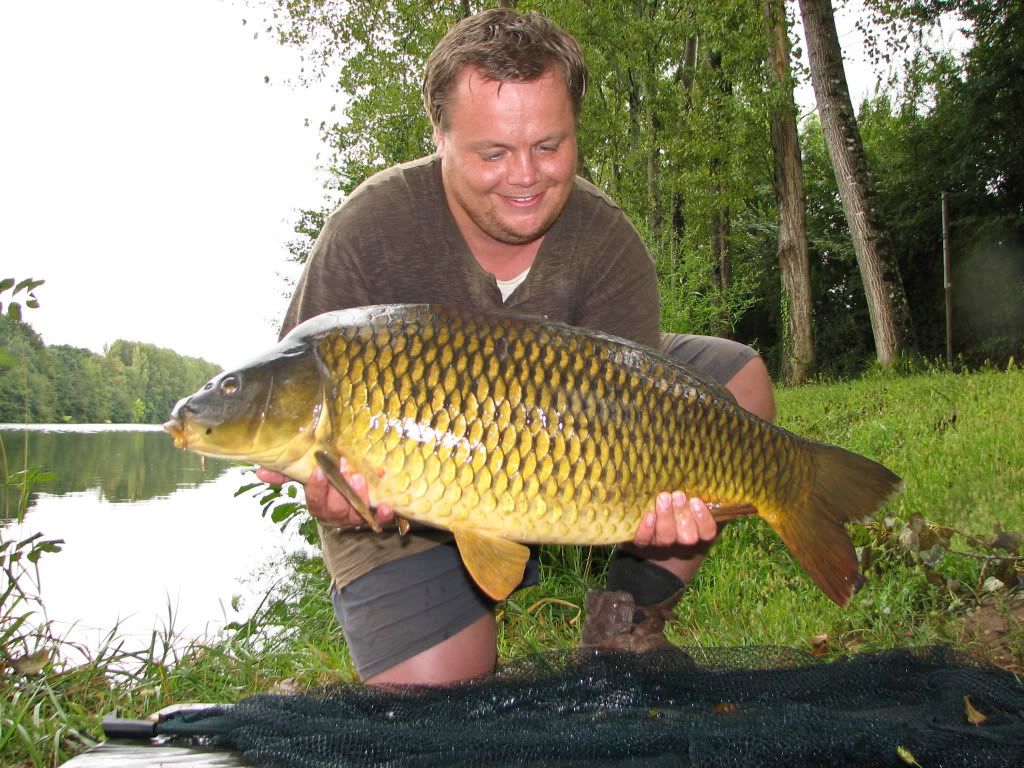 After the pictures and video were done she was slipped back and gracefully meandered off.
All rods were brought in and we decided to rest our swim till evening and topped up our swims lightly with more maize and crushed boilies (Crab Trifle & smky Fish) later in the night Roberts Special Crab Rod tore off and this was to be another cracking fish and took Robert every way it could trying to visit seemingly every snag in the river after a long fight a very solid well shouldered Mirror was in the net. One lift of it said it all by me "I reckon this could be a 40 Robert" he was chuckling happily and starry eyed,on to the scales she went and they tipped to 37Lb exactly,Robert was utterly chuffed.
The Same night my Middle Rod (Fruity Trifle) which was to a bush downstream ripped off and I was into a very powerful and at times hard to control fish,which tried to grace more then a few underwater tree trunks much to my horror,this fish eventually succumbed to the folds of the net and was one of the longest 20lb Wildy looking Commons I have ever caught and was a lovely fish.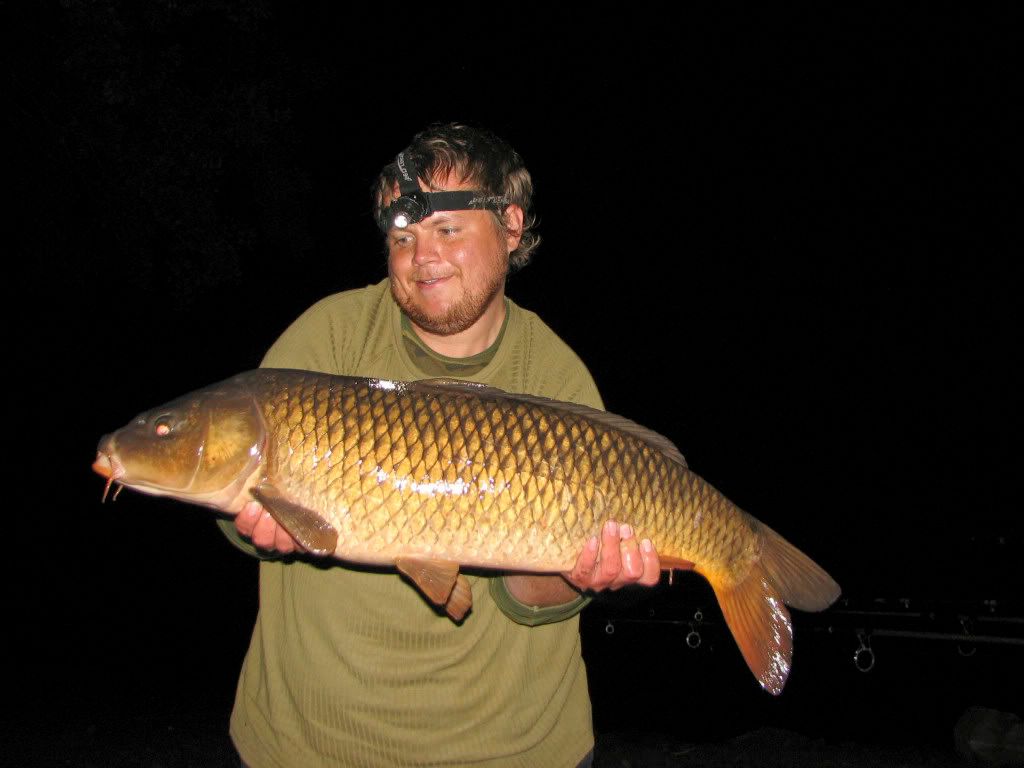 This was to be our last Lot Carp before our trip home and it had been a memorable one with most species caught including 260kg of Barbel 350kg of Bream (mainly Robert,sorry old chap had to say)although to be fair I did chip in with 50kg of that total,we also had Tench to 4lb8oz but no pictures were taken along with numerous Chub averaging 5 to 6lb.