Fishing For Memories

Thames Winter Chub fishing March 2007

Our fish of dreams
The back end of the river season,there is something quite solemn about it you know,yet it is filled with an energy and enthusiasm that is only matched by the opening day of the river season,frosty evenings,Pheasants and Partridges calling out over the fields and beginning the start of their mating for the Spring that whilst not feeling like having returned is showing slightly in the buds of the trees and other such flora and fauna,even the bumble bee has started to show,searching its way haphazardly through what vegetation there is.


We found ourselfs out of luck for the first 10 days of March,with southern England being hit by some very heavy rain and the rivers taking a beating with severe flooding on most of them Ducks,swans and coots in fields paddling about was the sight which greeted us.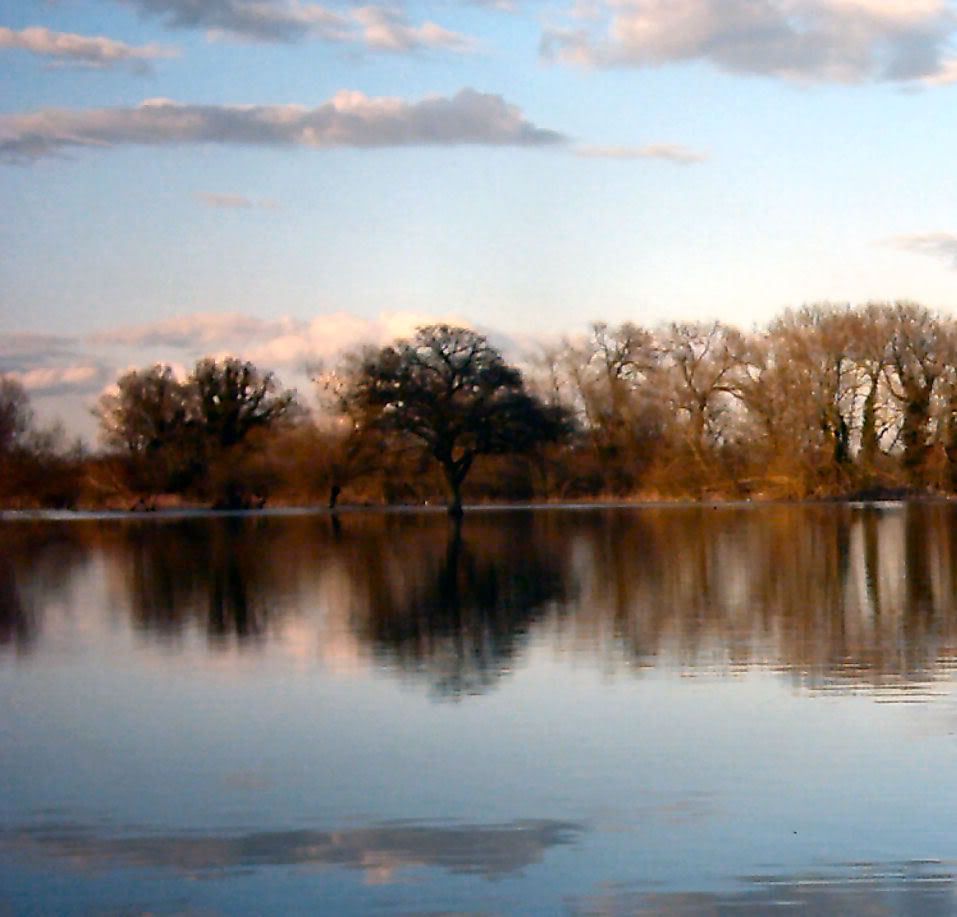 We were very crestfallen knowing that if the rains did let up we would only have a small window of oppurtunity before the close of season,Robert and myself just hoped the rain would lift for 6 or 7 days,luckily the rain subsided and over the next week water levels whilst high returned to some what normality.

We took a couple of trips over to pre-bait our swims,choosing to lightly pre-bait over 3 days with hemp and trout pellets and some of the freezer bait boilies of mine that I always keep handy.The river was still very coloured and with heavy flow,Robert mentioned to me how he felt that we would have a fight on our hands with the debris floating down,I agreed and said "well we hardly have many days left to be worrying about the debris and flow easing"

So the decision was made to get our last session in on the river,the morning came sandwiches were readied and all other supplies deemed necessary for such cold and damp weather.We arrived over the river at around 9am the day was one of high pressure and clear skies with rather warm sunshine.


We reached our swims and settled down totally out of breathe and a tad knackered,after a good 45 minutes rejuvenation I set about doing our rigs,which were to be the following 2oz Gripper leads (great weights for holding bottom) hooklink was to be 7Lb6oz Power Reflon on both my rods,normally I use 5Lb Trilene but I deemed this suicidal in current conditions and quite possibly would cost me fish,a size 8 Kamasan Animal hook was to be used,hooks are very much a personal preference and confidence factor and I have amazing confidence in these hooks,they have never once let me down with their reverse beak which is great and
works well for anti ejection purposes,Main line that was to be used was 10LB TFG Gun smoke the rig which was as always a running ledger rig was to be fished in conjucnction with a knotless knot and hair rigged 15mm Halibut pellet on one rod and fishmeal freezer boilie on the other.Pva bags were used by myself and filled with micro trout pellets and hemp.

Robert mean while had setup one rod with a similar rig,same weight/main line, hook size and pattern but using a 9lB black braid hooklink,which I had acquired via www.Tacklebargains.co.uk knowing it was an unbranded braid by reknowned company but at knock down prices,I picked it up earlier on in the season and it had proved its worth very well.

On his other Rod Robert had the exact same setup as me using a 7LB6oz Power Reflon hooklink.Baits for him were twin 15mm halibut pellets on both rods.
Robert was using loose fed pellets and liquidised Bread Crumb as ground bait.


The Morning past without incident,geese swept by over head,swans paddled by giving us seemingly indignant cursory glances,as usual this time of the year boat traffic was at a minimum also,which is always a god send,we sat back chatting about how the day had developed so far,we
both still felt very confident in our chances,both knowing that most fish activity tends to startas the evning draws in,we have always found this on the Thames.

During the late afternoon my left rod screamed off I leaned in it felt a very lively fish,I suggested to Robert it may be a smallish Carp or a Barbel and sure enough it turned out to be a nicely proportioned albeit small in our experience of Thames Barbel and 5LB 8oz,but very welcome nonetheless.

After the Barbel all fell silent,no action whatsoever,but puer unadulterated peace and tranquility were abound and Later that day two kingfishers swept through our swim flying low and tight to the waters surface,such a wonderous bird,stream lined and metallic colours almost like a jet fighter in miniature.


Evening came and a single bleep sounded on Roberts left hand rod,all went quiet for the nexthour,then one long bleep Robert lifted in the fish decided to take a slow but powerfully deep run downstream and then lock itself up hugging the bottom,we both came to the conclusion this was a possible Barbel,as they do have a tendency to also hug the bottom and stay put for a while.After some carefully applied pressure the fish swam back upstream and was brought to our margin,slowly it appeared on the surface,its Silver armour like scales and red fins,it was a Chub and a very large one at that,I said to Robert "looks like a 7 pounder maybe even more".

So we took her over to the landing mat slipped her into the weigh sling,the scales tipped round to 8LB.. "oh my an 8 pounder Robert" I exclaimed,he could not believe it "that is incredible"he said,and a new personal best,snashing his old PB by 2LB






Specimen Chub don`t come much bigger than an 8LB Chub,just this fish alone would have made our session amazingly special,but more was to come.

The evening drew on Robert had one more Rattling take on his right rod and the fish slipped the hook,it felt a reasonable fish and was possibly another decent Chub.


10pm came,sat under my brolly dozing slightly,my right Fox mx bleeped "hmm debris maybe" was what went through my mind.The answer came 20 minutes later when the alarm single toned and the baitrunner went into overtime the fish ran to the left and down stream,now that would normally be ok but not as far as he was running,as just further down was sunken roots of a tree on the next bend "Not good Not good" was going through my mind,so I took the decision to lower my rod slightly and release any pressure the fish was feeling and kid the fish into changing his mind about running off downstream and this worked,the fish moved back upstream,by this time Robert had joined me at my swim and was ready with the landing net.after a 10 minute fight another Chub was netted and this one looked another Specimen fish.This was turning into one very special session indeed,Robert mentioned "Looks like 7LB".

Laid on the mat I slid her into the weigh sling and hooked it up on the scales round they went stopping at 7LB 8ozs Robert Exclaimed "7Lb 8ozs I wasn`t far with my estimate,what a fish".I was in awe I had smashed my PB by 2LB as well and it was another specimen Chub for us.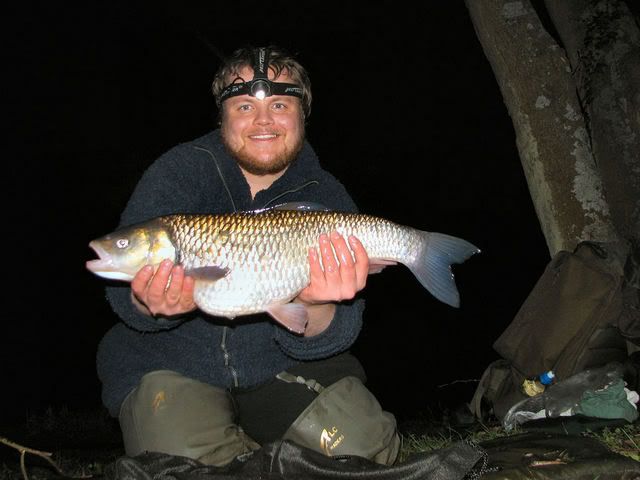 This session was going from amazing to the mythical stuff of dreams ,we both knew we had hooked two specimen Chub from the Thames this season,it just could not get any better.

We was featured in the following weeks Angling Times plublication and on their website.