Fishing For Memories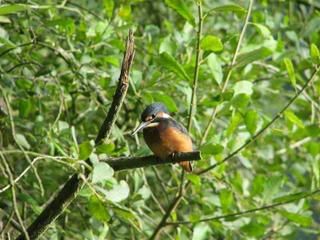 My names Mark Erdwin and his names Robert Erdwin we would like to take this chance to welcome you to the Fishing for Memories Blog. This Blog is dedicated to telling the stories of our seasons fishing on the various rivers and pits of Southern England.
Summer Tincas
In the blistering heat that was the summer of 2006
we set our eyes on getting into some Tench on one of our favourite pits.
There is something some what synonimous with hot days and warm nights and Tench fishing, The mist lifting its veil from the water in the mornings,The Tale tale signs of Tench delicately rolling and barely breaking the surface of the water to show a tail in their wonderful shy enchanting way that belies their power and muscle.
The Pit
The pit itself is around 30 acres and unlike so many other waters totally unkept and natural,full to the brim with many criss crossing gravel bars and gullies starting at very short range in many areas.On our previous feature finding mission we found the average depth to be between 2 and 3 metres maxing out at 4 metres in some areas.
The following evening we set up in our chosen swim,Robert fishing on the right myself on the left.As normal one rod by both of us was put out at marginal range,my rod was placed to a bar beginning at very short range and at the tip of an overhanging tree,this rod was a running rig as are all of our rods and fished slack lined,we have always used this standard rig as we find it more sensitive than fishing the usual style of inline semi-fixed rig,as seems so much the fashion these days.
A single hair rigged 15mm Halibut pellet on a size 8 Kamasan Animal hook was used and micro pva Smart Liquidus bag.On the right rod I decided to go with an 18mm fluoro pineapple pop up this was accompanied by a stick of crushed boilies and halfs and cast at 90 metres to another gravel bar that ran parrallel to the swim.
As I was finishing my rods my father Robert had got his into place,fishing one rod to the right margin near the drop off and beginning gravel bar on a cocktail of cranberry boilie and 15mm artifical halibut pellet and his second rod at range adjacent to me on the same gravel bar atrange approx 90 metres on this he was presenting a jamaican banana boilie.
Once we was done we settled down to the usual banter,fueled by expectation that accompanies all our sessions,the evening slowly drew in, a couple of herons flew overhead and the Tufted ducks eyed our baited areas with greedy eyes.
At 9pm my left rod bleeped as the crayfish pawed at the pellet,then all fell silent as is so typcial as the fish move in they push the crayfish aside. 20 minutes later and the left rod tore off to the sound of a single toner.I locked the baitrunner and set the hook,by now the fish was well aware of the prescence of the hook and was decidedly angry it took a deep run to my left near one of the overhanging trees and carried on to peel line,after 10 minutes the fish kited right to the edge of the marginal drop off and was landed by a slightly wetted Robert.The Fish one of many we was to take over the next three sessions was 7LB 9oz`s and matched my personal best.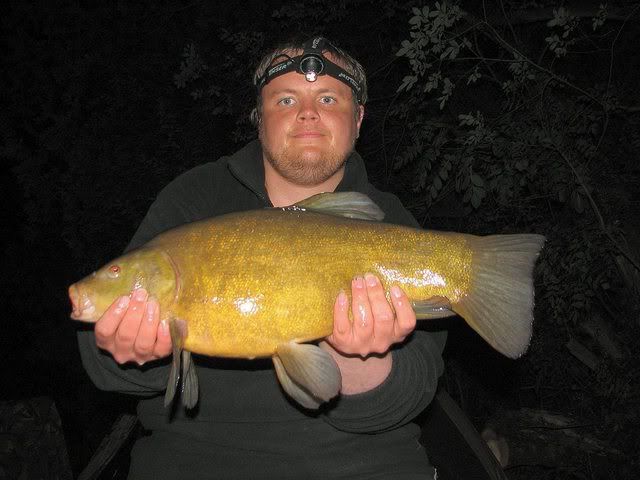 After she was slipped back the rod was rebaitedand cast to the same area,it is always a nice feeling when you have your first fish of a session we put the tea on and sat back recounting how Robert had got a bit more wetter then he had bargained for when the fish had attempted to tail walk at the last moments.
It was not long after we had settled down to swatting the dreaded mosquitoes that were dive bombing us overly enthusiastically,that my left rod sounded again this time more of a slow take that simply meandered off,lifting in I was met with a pleasent resistance and soon another tench this time slightly smaller at 6Lb 13oz`s was in the net.
One more take was to come on the left rod but alas the fish was bumped off,all went quiet during the next few hours until 4am when the right rod and pineapple pop-up saw a staccato esque take develop into a nice full blooded run,I could feel the weight bouncing over the gravel bars as I played this fish and was worried I might end up with a cut off if I was unlucky enough to find one of mussel beds,luckily this didn`t happen and resulted in another Tench this time of 7LB8oz`s .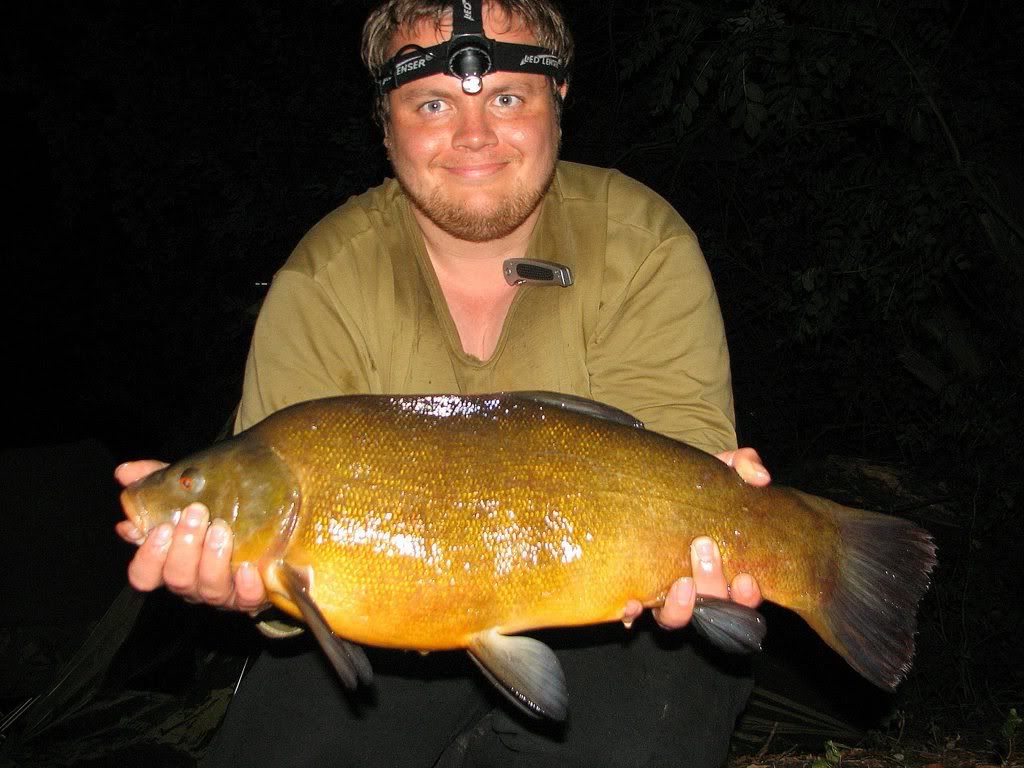 That was to be the end of my action for the next few hours,this was when Roberts rods kicked into action and at 7am his left rod tore off,I was snoozing on my bedchair and caught his call of
"yes I`m in" asking him how it felt as most anglers do,he replied "feels a reasonable fish"
after a solid 10 minute fight he landed a very deep Tench i estimated it at 8Lb`s and commented how it could be a new pb for him,into the weigh sling it went and tipped the scales to 7lb 14oz`s just 2oz`s under 8lb and a new Tench pb for Robert!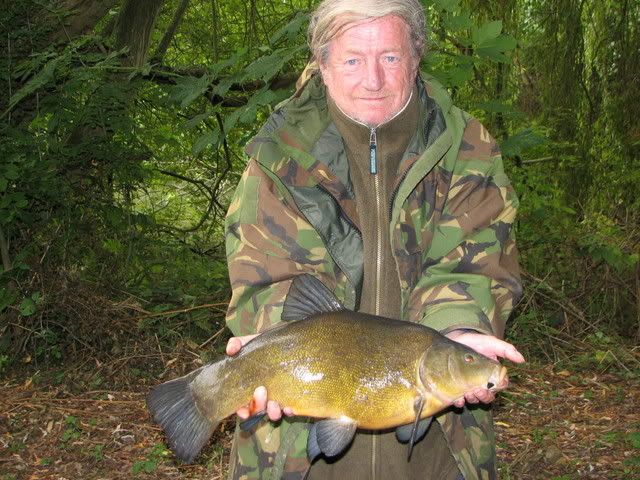 After that fish all went quiet till 2pm when Robert`s left banana boilie rod decided it could not take the silence any longer and started to run,another long range tussle with a Tench that seemed intent on snagging Robert,this fish turned out to be 7Lb 4oz`s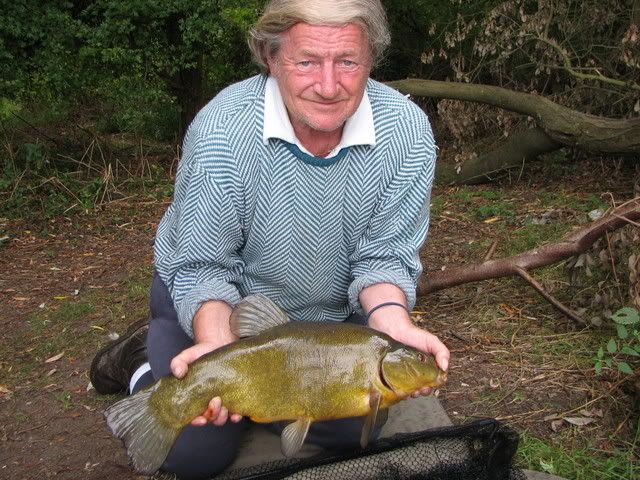 It was not long before he was in again and this time on the marginal right pellet rod,a single bleep and then 15 minutes later a slow movement of the swinger and it was game on again.
This time the result was a perfectly proportioned Tench of 7lb 8oz`s
In total we took a total of 200LB of Tench in our session.